Having a tree on your property is extremely beneficial for a variety of reasons. Trees provide plenty of shade and protection from the sun's harsh rays, as well as more oxygen into the system.
A tree is also an excellent addition to any landscape design, as long as property owners perform proper tree maintenance and hire an experienced tree care service provider like The Tree Shop in Deland, Florida.
However, sometimes a homeowner or business owner will need to hire tree removal services to get a tree out of the ground. This is frequently due to the tree developing a disease in the branches, being infested with insects, or having been damaged. Woodpeckers that drill holes in the bark may also cause issues.
These trees must be removed to ensure the safety of your home as well as the property of your neighbors. Whatever the reason for the tree removal, you will be left with a large stump at the end of the process.
Our professional arborists and tree care experts at The Tree Shop in Deland, Florida are here to provide you with exceptional stump removal/stump grinding services for your home or business. Our team will discuss your options for removing a stump in your yard or on your property and will complete the job quickly and effectively.
How Do Tree Removal and Stump Grinding Relate?
When a tree is removed from a property, it leaves a large stump with a complete root system beneath the soil's surface. That tree stump will have to be removed. Property owners can choose between two stump removal options:
Stump grinding services
Stump removal services
Our team at The Tree Shop can provide you with either option and a detailed explanation of the processes to help you decide which is best for your property.
Benefits of Tree Stump Grinding
If you choose to have tree stumps ground beneath the surface of your property, the process is much faster and less expensive than having a stump removed. Our team will shred the stump into sawdust or wood chips using a professional-level stump grinder. The chips produced will be quite large, especially for large stumps, but you could use them as mulch for plants in your landscape design.
We can use the stump grinder to grind the stump from 1 inch below ground level to 12 inches! This ensures that once the stump grinders have finished their work, you will no longer be able to see the stump or be concerned about children or pets tripping over it. You can also re-seed the area where the tree was to avoid having a gap in your landscaping.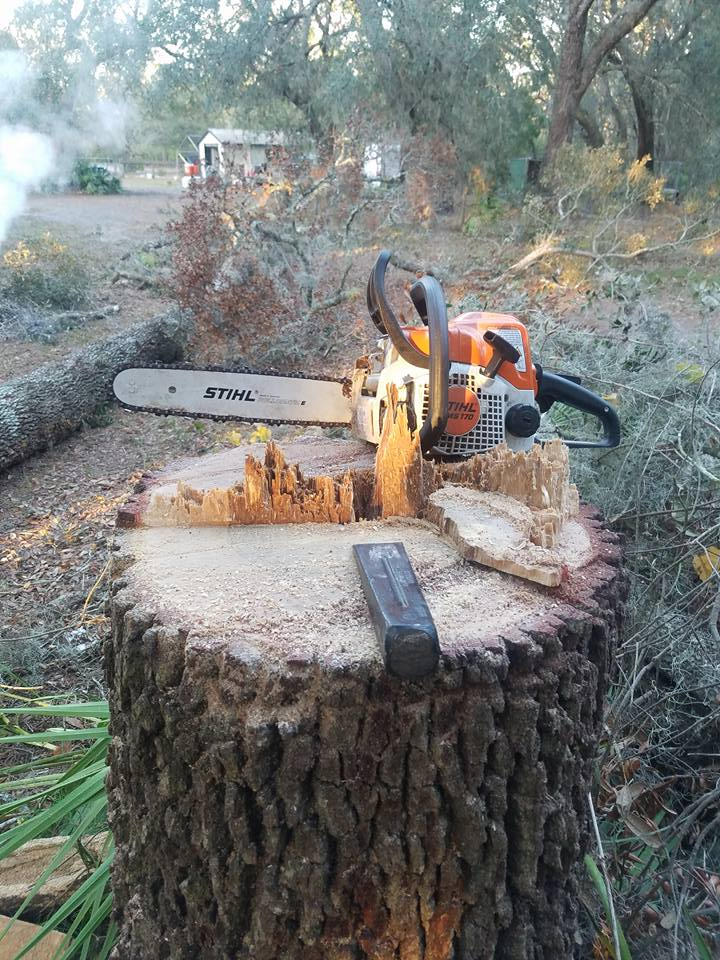 There are a few disadvantages to using a stump grinder to remove the stump from the ground. First, the process preserves the roots. This means that new growth may be sprouting, which may interfere with your future landscape design. Similarly, there could be root decay or a fungus that persists in the rest of the stump and spreads to other plants or trees. Insects and pests such as carpenter ants may be attracted to decaying roots.
Advantages of the Removal of Tree Stumps
Using the services of a stump remover, on the other hand, has its advantages. When stumps are removed, the entire root system is removed, which allows you to plant a new tree in its place because you now have a clean slate. When you remove a tree stump, you remove the risk of any health hazards associated with the stump.
There are some disadvantages to stump removal. The process is time-consuming and necessitates the use of heavy machinery as well as significant physical effort. You can't just go to your local hardware store and rent a stump-removal device. Concerning the roots, keep in mind that old trees have wide-spreading roots, and pulling them out of the ground may disrupt underground utilities if extra precautions are not taken.
One of the most significant disadvantages is that you will now have a large hole in your yard that will need to be filled. Finally, removing the stump makes a big mess and will almost certainly mess up the rest of your landscaping.
How to Choose Between Tree Stump Removal and Grinding
It is entirely up to you whether to remove or grind a stump, but our team at The Tree Shop in Deland, FL, is happy to assist you in making that decision. We will provide you with a detailed explanation of both services and allow you to make the best decision for your property.
Removal is much more labor-intensive and expensive, but it is ideal for those who have a lot of open space or land to clear. Many homeowners prefer to grind stumps because it causes the least amount of disruption to the landscape.
Contact our Deland, Florida, Emergency Tree Service
If you are a homeowner or business owner in Deland, FL, and you have an unsightly stump on your lawn, call The Tree Shop. Our staff is happy to provide you with a free estimate for our stump grinding or removal services, and we are confident that you will find it reasonable.
Contact our experienced and highly-trained crew to maintain the aesthetics and health of your lawn or property. We are pleased to serve the residents and businesses of Deland and nearby areas of Florida. Whether you need stump ground or your land cleared, our experts are here to assist you in any way we can.
Call now for a free estimate or to speak with one of our tree service professionals about your tree care needs. All of the assistance you require is only a phone call away!